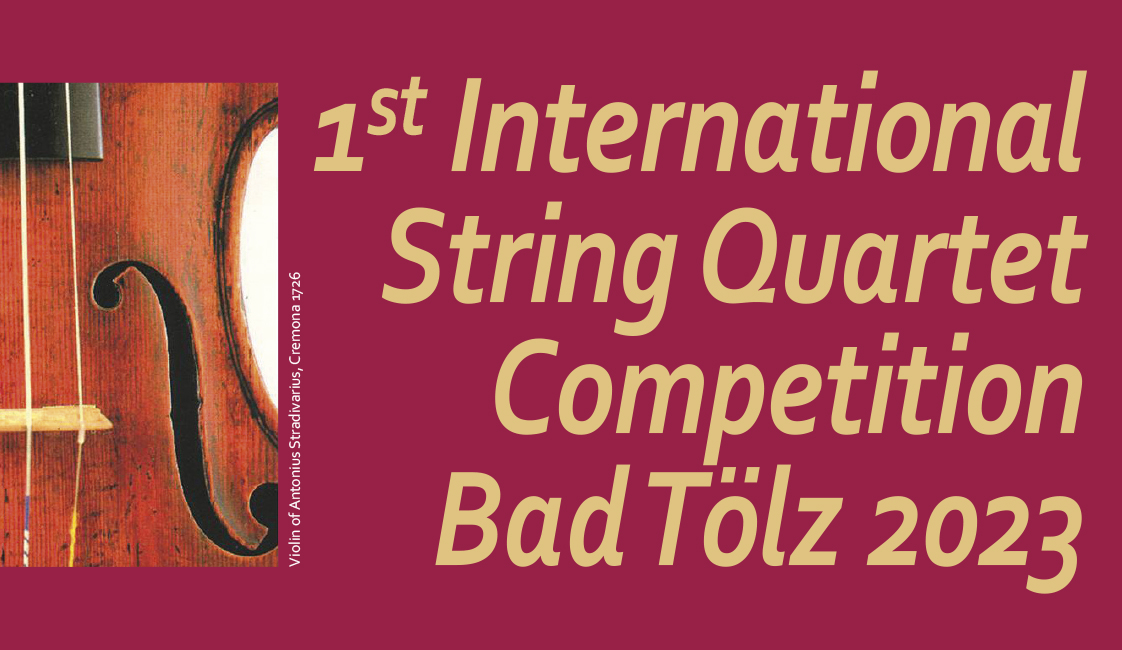 Summary
1st International String Quartet Competition Bad Tölz 2023
Patron: Dr. Ingo Mehner, 1st Mayor of the City of Bad Tölz
Reminder: Application deadline: October-30th/2022


As a non-profit association KLANGERLEBNIS e.V., we wish to promote young professional string quartets by offering a new international string quartet competition in Bad Tölz with a total of € 27.000 in prize money. The patron is the 1st mayor of the city of Bad Tölz, Dr. Ingo Mehner. We encourage young professional quartets to apply.
Competition: 1st International String Quartet Competition Bad Tölz 2023
Place: Kurhaus Bad Tölz, Ludwigstraße 25, D-83646 Bad Tölz (Germany)
Date: April 15 (arrival and getting familiar with the concert hall), April 16-17 April (1. and 2. round with 45 minutes for each quartet), and 18.-20. April (concerts of the three competition winners). Accommodation and meals are free for all participants. If arrival will be already at April 14 this hotel night has to be paid by the participants.
The application deadline is October 30th, 2022. The application documents are to be sent in German or English exclusively by mail to:  Diese E-Mail-Adresse ist vor Spambots geschützt! Zur Anzeige muss JavaScript eingeschaltet sein!
Age limitation: 128 years in total, no member older than 35 years (at April 2023)
Eight selected quartets will receive an invitation for the competition at the latest until January 31st 2022
The competition is announced worldwide. The application conditions can be found at: www.quartettissimo.de/competition-badtoelz-2023/bewerbung-application-2023/
Prizes:
€ 12.500 = € 10.000 (1st competition winner: Susanne and Christoph Kessler Grand Prize) plus €2.500 (Henle Urtext Prize) plus an invitation to a European concert tour in the following season by the Berlin Concert Agency Hampl with a date in Bad Tölz on January 20, 2024
€ 7.500 = € 6.000 (2nd competition winner) plus € 1.500 (Henle Urtext Prize)
€ 4.000 = € 3.000 (3rd competition winner) plus € 1.000 (Henle Urtext Prize)
€ 2.000 Esterhazy Special Prize for the best interpretation of a Haydn string quartet and an invitation to a concert at Esterhazy Palace
€ 1.000 audience prize
The jury is international and chaired by
Günter Pichler (founding member and leader of the Alban Berg Quartet, professor of chamber music at the universities of Vienna, Cologne and Madrid)
Additional jury members from all over Europe are:
Gustav Frielinghau

s (Primarius Amaryllis Quartet, concert cycle amaryllis 3x3 in Hamburg, Lübeck and Bremen, artistic direction Putbus Festspiele)

Andrea Hamp

l (concert agent/Concert Agency Hampl, Berlin, represents string quartets from all over Europe and USA/Canada as well as many other artists)
Volker Jacobsen (founding member of the Artemis Quartet and professor for viola at the University of Music, Drama and Media Hanover)
Helena Poggio (violocellist of the Cuarteto Quiroga, Madrid, professor of chamber music at the Real Conservarorio Superior de Música Madrid)
František Souček (Primarius Zemlinsky Quartet, Prague, Professor of Chamber Music at the Prague Conservatory)
Antti Tikkanen (Primarius and founding member of the string quartet META4, artistic co-director of the Kuhmo Chamber Music Festival and the PuKama Chamber Series in Helsinki)
With the application, the quartet declares that they waive any legal remedies against the foundation and have no legal claim to the granting or payment of any funding promised by the organizers. Instruments must be self-insured.